RoHS II and REACH Certificate of Compliance
RoHS II and REACH Certificate of Compliance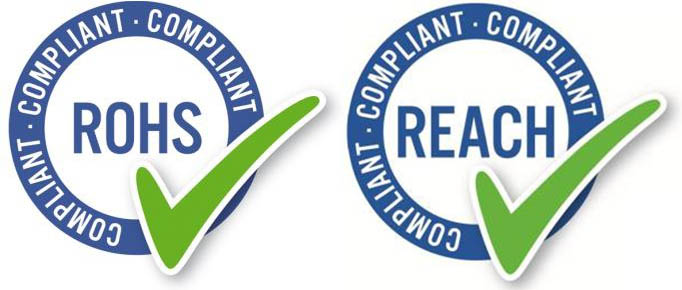 We are committed to manage the use of chemical substances in accordance with governmental regulations, industry standards, and customer-specific requirements in order to protect the environment.
2011/65/EU (RoHS II)
We hereby certify that all of our products fully comply with The European RoHS Directive 2002/95/EC (RoHS I) and its subsequent amendments 2011/65/EU (RoHS II). Homogeneous materials of parts that are compliant to this legislation have less than 0.1% by weight each of lead, mercury, hexavalent chromium, PBB, and PBDE, and 0.01% by weight of cadmium. In situations where an exemption applies, the preceding limits, corresponding to the exempted substance(s), may be higher.
(EC) NO 1907/2006 (REACH)
We hereby also certify that none of our products contain Substances of Very High Concern (SVHC) as listed by the European Chemicals Agency (ECHA) under the provisions of Regulation (EC) No. 1907/2006 of the European Parliament and of the council concerning the Registration, Evaluation, Authorization, and Restriction of Chemicals (REACH) per the ECHA 20/12/2010 and previous updates and included the Regulation (EU) No 2015/830 from 25 May 2015 amending Annex II and III.
The status of the candidate list (SVHC) will continue to be monitored, as established under Article 33 of REACH to inform product recipients and consumers if any substance or preparations of an article contains more than 0.1% by weight per article of any substance that is added to the SVHC candidate list in the future.
Under observation of all specified limits we confirm that all products are in compliance with these directives.
In regular intervals at least once a year, a check-up will be made in order to approve and comply with the directives.